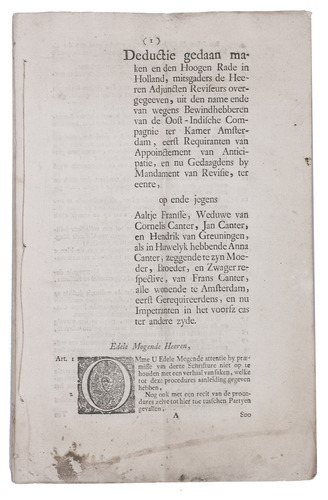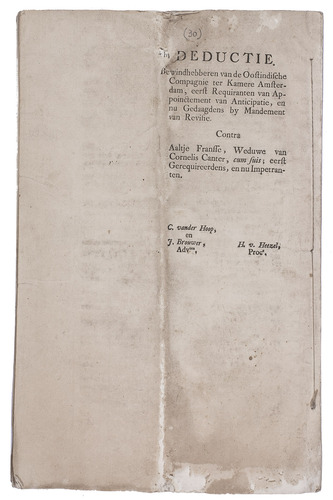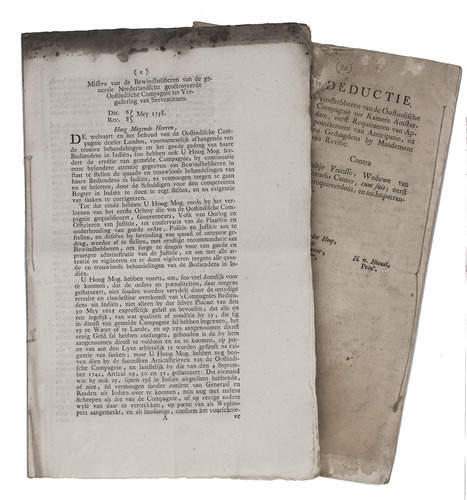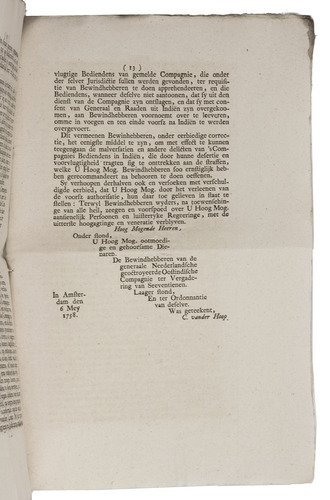 [CANTER, Frans (subject)].
Deductie gedaan ... uit den name ende van wegens bewindhebberen van de Oost-Indische Compagnie ter kamer Amsterdam, eerst requiranten van appoinctement van anticipatie, en nu gedaagdens by mandament van revisie, ter eenre, op ende jegens Aaltje Fransse, weduwe van Cornelis Canter, Jan Canter, en Hendrik van Greuningen, als in huwelyk hebbende Anna Canter, zeggende te zyn moeder, broeder, en zwager respective, van Frans Canter, alle wonende te Amsterdam, ...
[Amsterdam, 1752]. Folio (31.5 x 20.5 cm). Side-stitched.
With: (2) Missive van de bewindhebberen van de generale Neederlandsche geoctroyeerde Oostindische Compagnie ter vergadering van Seeventienen.
[Amsterdam, 1758]. Folio (33 x 21 cm). Side-stitched. 28, [1 blank], [1]; 13, [3 blank] pp.
€ 3,500
Rare first and only edition of a legal injunction against the mother, father and brother-in-law of Frans Canter, manager of the VOC (Dutch East India Company) factory at Basra in southern Iraq from 1746 to 1750, who upon a summons to Batavia (apparently regarding misconduct), fled to Europe. Added is an even rarer missive from the directors of the VOC, on the misconduct of the company's personnel, including a summary of the case against Canter. In this period the VOC was plagued by rising debts and corruption.
"The Dutch representatives in Basra had quite a bad reputation with their principals. ... Frans Canter, resident in Basra from 1747 to 1750 seems to have had a bad conscience too. When in 1750, the High Government sent him a successor to Basra, Tiddo Frederik van Kniphausen, Canter did not wait for Kniphausen to arrive and take over his books, but he fled first to Kuwait and from there to Aleppo and finally Holland. There the Company was unable to call him to justice because the Burgomasters of Amsterdam refused to recognize the jurisdiction of the Company over one of the citizens of their town while residing under their protection. Of more interest to the history of the Gulf is the fact that the documents on Canter's flight give for the first time explicit proof that caravans from Aleppo used Kuwait as an alternative terminal for Basra" (Slot).
Ad 1: First and last leaf soiled, some marginal thumbing and (water) staining, last leaf (acting as a wrapper) damaged, otherwise still in good condition. Ad 2: Old fold and the head of the first leaf soiled (not reaching the text), otherwise also still very good. Ad 1: Cat. KITLV, p. 61; Landwehr & V.d. Krogt, VOC 1020 (3 copies); STCN (3 copies, incl. at least 1 the same); ad 2: Cat. KITLV, p. 61; NCC (2 copies); not in Landwehr & V.d. Krogt, VOC; STCN; cf. Slot, The Arabs of the Gulf, pp. 353-354.
Related Subjects: