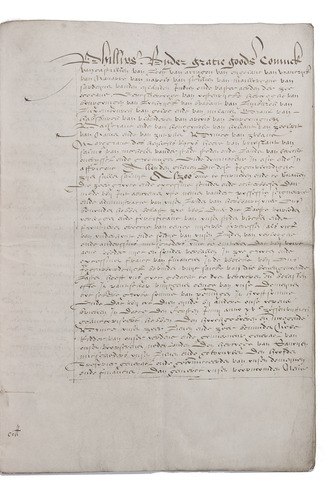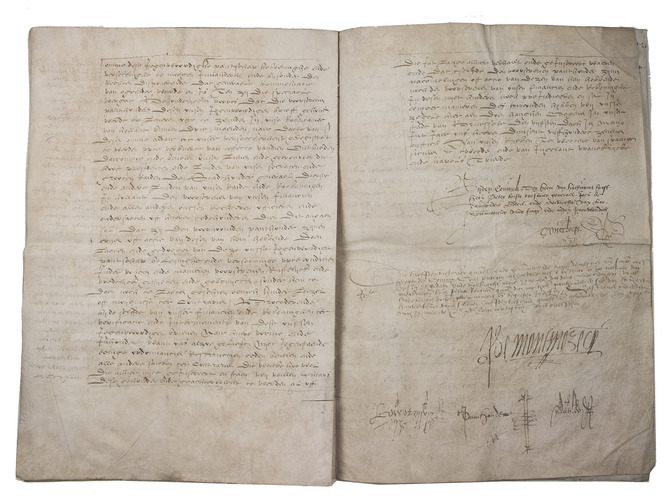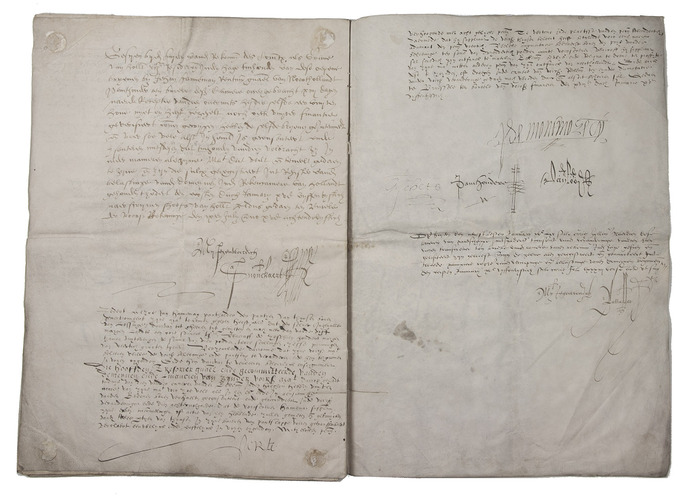 [MANUSCRIPT]. PHILIP (FELIPE) II, King of Spain.
[Mortgage agreement, granting Jan Hanneman, Steward General of North Holland, the rights to the tithes of the King's lands of Voorburg and Voorschoten].
The Hague and Brussels, 1557 (with additions to 1565). Folio (36 x 25.5 cm). Manuscript mortgage agreement, signed by King Philip's representatives, written in brown ink on parchment in a nearly upright cursive gothic hand. With a typescript transcription of the main text and an interlinear translation in Spanish. [2 blank], 9, [1 blank] pp.
€ 6,500
Original mortgage agreement in Dutch in which King Philip II of Spain, who had sovereignty over the Low Countries and held the title Count of Holland, grants Jan Hanneman the rights to the tithes from his lands of Voorburg and Voorschoten. Philip had succeeded to the Spanish crown the year before on the abdication of the Holy Roman Emperor Charles V, and the present elegantly written text explains that he and the Spanish Government wish to ameliorate their "very large and excessive debts" (it later speaks of 300,000 guilders, which would be 50,000 Flemish pounds) resulting from years of war, the building and maintenance of many fortifications and the salaries of the troops, so the King wishes to mortgage or sell some of his royal domains and the rights to tithes that go with them. Efforts in 1556 had not yielded enough. Spain was later able to finance the wars with treasures from the colonies, most famously transported in the annual silver fleet beginning in 1566, but here a decade earlier, the King was desperate for funds.
Formerly folded. In very good condition, but with the sewing recent and rather loose. A primary source for Spain's financial state in 1557 and for the history of Voorburg and Voorschoten.
Related Subjects: