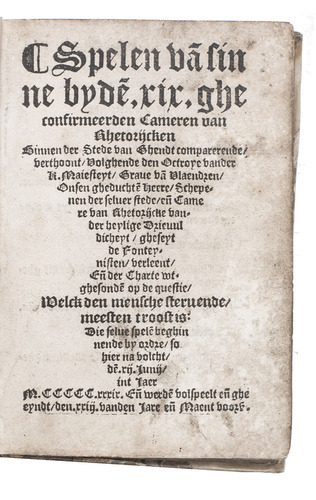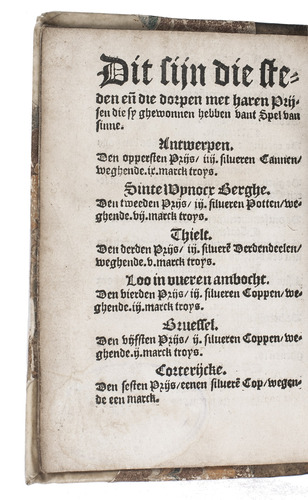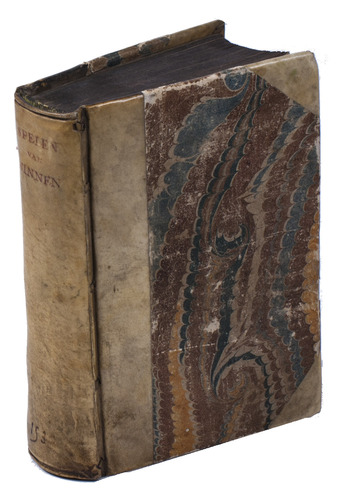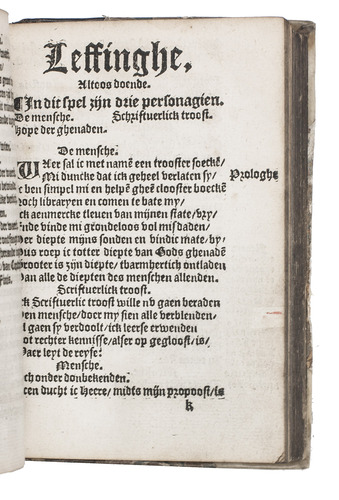 [RHETORICIANS].
Spelen va[n] sinne byde[n] .xix. gheconfirmeerden cameren van rhetorijcken binnen der stede van Ghendt comparerende, verthoont, volghende den octroye vander K. Maiesteyt, Grave va[n] Vlaendren, onsen gheduchte[n] Heere, schepenen der selver stede, en[de] camere van rhetorijcke vander heylige drievuldicheyt, gheseyt de fonteynisten, verleent, en[de] der charte uutghesonde[n] op de questie, welck den mensche stervende, meesten troost is: die selve spele[n] beghinnende by ordre, so hier na volcht, de[n] .xii. junij, int jaer m.ccccc.xxxix. En[de] werde[n] volspeelt en[de] gheeyndt, den .xxiii. vanden jare en[de] maent voorsz.
(Colophon: Antwerp, [Matthias Crom], 25 October 1539). 8vo. 18th-century half vellum. [220] ll.
€ 13,500
Possibly unrecorded variant of one of the three scarce Antwerp editions published in the same year as the first edition by Joos Lambrecht at Ghent in 1539, of an account of a so-called "Landjuweel", a rhetoricians' festival organized in Ghent in June 1539. They were organized by the chamber "De H. Drievuldicheyt" of Ghent and the 19 participating chambers from different cities each presented a play answering the question: "What is of the most comfort for somebody who is dying?" It was the first time that the texts of the plays were published immediately after the festival. The texts breathe the spirit of the Reformation and the book was banned in 1540.
The sequence of the three editions is not certain and the differences are minimal. Our copy has the title as described in Nijhoff & Kronenberg 3890, but contains a variant in the colophon: "xxv. Octob." instead of "xv. Octob.". This variant is described in the literature only as part of the other Antwerp editions, but because the variations in the title concern only abbreviations, many libraries may have catalogued copies improperly. Another edition appeared in 1564 in Wesel by Hans de Braecker.
Title-page soiled, slip of paper pasted over an erased library stamp in the lower margin of the second leaf, a few minor dampstains and small wormhole in the last leaves. Good copy. Machiels S-491, cf. S-490 & S-492; Nijhoff & Kronenberg 3890 (3 imperfect copies), cf. 1926-1928; cf. Bibl. Belg. V, p. 190; Typ. Batava 4704 (1564 ed.).
Related Subjects: