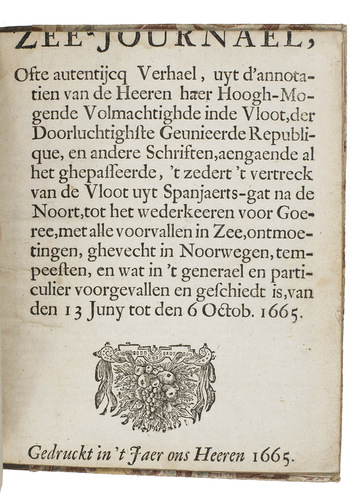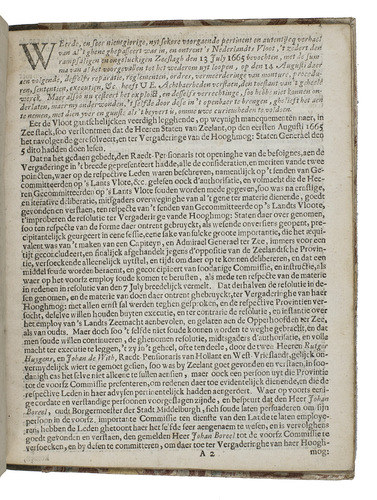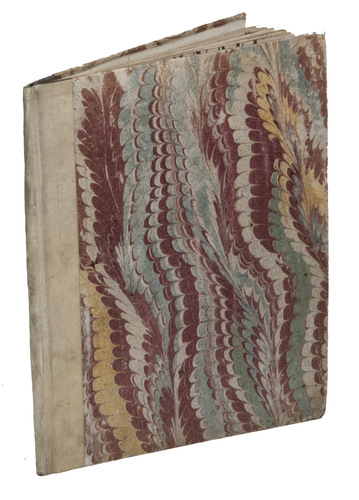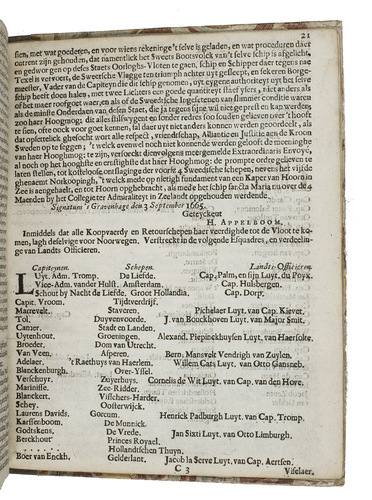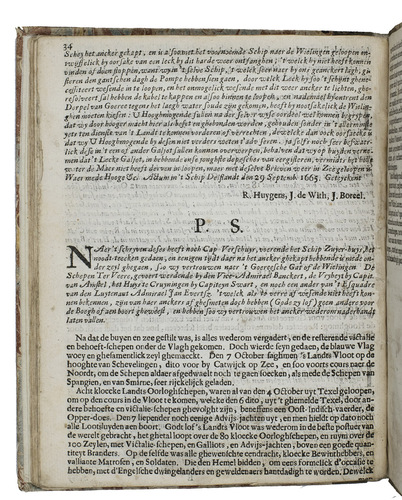 [SECOND ANGLO-DUTCH WAR - BATTLE OF VÅGEN - VOC].
Zee-journael, ofte autentijcq verhael, uyt d'annotatien van de heeren haer hoogh-mogende volmachtighde inde vloot, der doorluchtighste geunieerde Republique, en andere schriften, aengaende al het ghepasseerde, 't zedert 't vertreck van de vloot uyt Spanjaerts-gat na de Noort, tot het wederkeeren voor Goeree, met alle voorvallen in zee, ontmoetingen, ghevecht in Noorwegen, tempeesten, en wat in 't generael en particulier voorgevallen en geschiedt is, van den 13 juny tot den 6 octob. 1665.
[Amsterdam?, Jacobus Venckel?], 1665. 4to. With an ornamental woodcut title-vignette. Contemporary half vellum, marbled sides. 35, [1 blank] pp.
€ 2,500
Rare pamphlet written by an anonymous author, discussing the fascinating Battle of Vågen, the main port area of neutral Bergen in Norway, in August 1665 during the Second Anglo-Dutch War (1665-1667), including its background and aftermath. The Second Anglo-Dutch war was a war at sea, caused by conflicts in colonial territories of the Dutch Republic and England. This naval war consisted mainly of protecting their own merchant ships, capturing enemy ships and trying to sink mutual warships. The Battle of Vågen was an important naval battle between a rich treasure fleet of the Dutch East India Company (VOC) and an English flotilla of warships.
The present pamphlet gives an account of the events before and after the Battle of Vågen, and also in broad lines of the battle itself, including all kinds of correspondence and notes from high-ranking figures.
Since Tiele attributes this anonymous edition to Venckel, it seems likely to be the first edition, which Venckel first published anonymously. In any case, the present edition is rare. We find only two records of it at auction, in 2005 and 2015, the other copies are all held institutionally. A highly interesting pamphlet on one of the most important and fascinating 17th-century sea battles in Dutch naval history and in the history of the Dutch VOC.
A few spots, the margins trimmed (with no loss of text except that the words "Zee-Journael" on the title-page are slightly shaved). Otherwise in good condition. Knuttel 9103; STCN 863290108 (6 copies); Tiele 5266; WorldCat (5 copies in 4 entries); for Venckel: H.F. Wijnman, "De Amsterdamsche boekverkooper Jacob Vinckel (1627-1680)" in: Vondel-kroniek 5 (1934), p. 192.
Related Subjects: