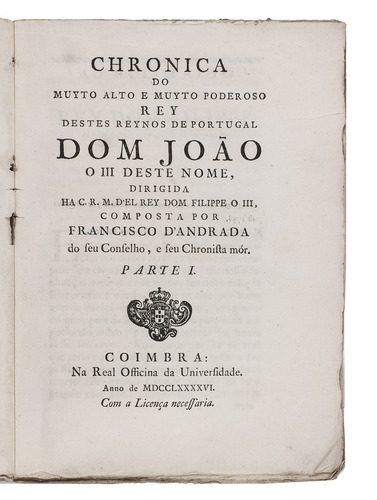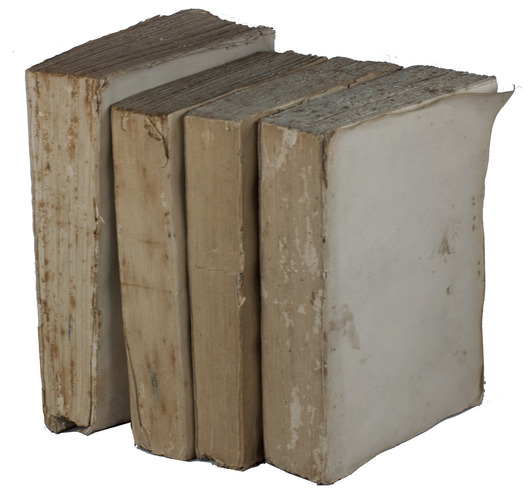 ANDRADA, Francisco d'.
Chronica do muyto alto e muyto poderoso Rey destes reynos de Portugal Dom João o III deste nome, ...
Coimbra, Real officina da universidade, 1796. 4 volumes. 4to. With a woodcut royal Portuguese coat of arms on title-page of each volume. Contemporary plain paper wrappers. VIII, I-XV, [1 blank], 385, [1 blank]; [4], XIX, [1 blank], 565 [=465], [1 blank]; [4], XX, 452;
€ 2,500
Second edition of an extensive history of the reign of King João (John) III of Portugal (1502-1557), written by Francisco d'Andrada (1540-1614). During his rule, Portuguese possessions were extended in Asia, and in the New World through the Portuguese colonization of Brazil. The majority of the 419 chapters deal with Portugal's overseas possessions and trading posts in India (Diu, Goa, Chaul, Calicut), China, Ceylon, the Moluccas, the Middle East (Ormuz, Suez), Africa (Zanzibar, Ethiopia, Mozambique), Brazil, etc. The chapters discuss newly acquired lands, the governors of the regions, voyages and travels, wars and sieges, and trade, Portugal being one of the first countries with trading posts in China and Japan. Though João III's reign was marked by the introduction of the inquisition in Portugal from 1536 onwards, the present publication only briefly deals with the subject. Some other chapters deal with Jesuit missions to the east.
With a few occasional small spots, otherwise in good condition, wholly untrimmed and most of the bolts in the third and fourth volumes unopened. Paper wrappers soiled and worn. Howgego, to 1800, A 90; cf. Bosch 52; Maggs, Bibl. Brasiliensis 104; not in Borba de Moraes.
Related Subjects: