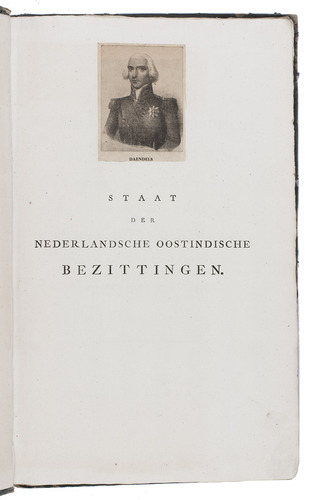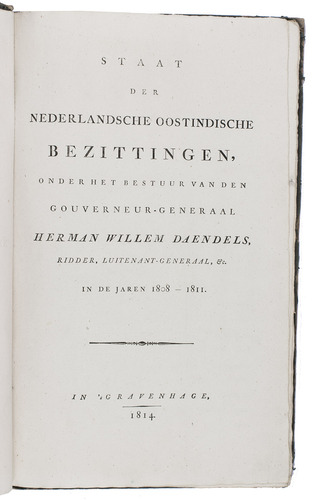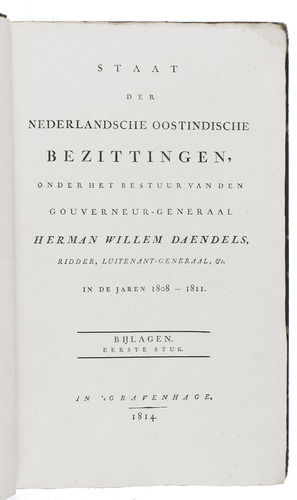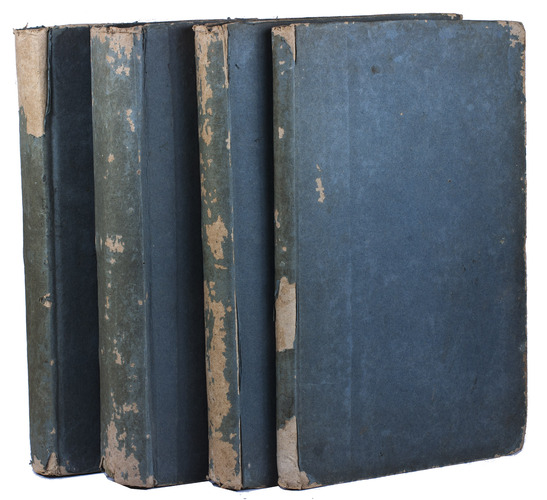 DAENDELS, Herman Willem.
Staat der Nederlandsche Oostindische bezittingen, onder het bestuur van der gouverneur-generaal Herman Willem Daendels, ridder, luitenant-generaal, &c. in de jaren 1808-1811.
The Hague, (colophon: Hendrik van Teeckelenburgh and the Van Cleef brothers), 1814. 4 volumes. Folio. With a small portrait of Daendels mounted on the half-title of the first volume. Contemporary boards. [6], 128, [1 blank]; [334]; [596]; [488] pp.
€ 5,500
First and only edition of the account of Herman Willem Daendels's rule of the Dutch East Indies from 1807 to 1811. The first volume is a summary of the four years in which Daendels was governor-general at Batavia, describing the Dutch possessions in the East Indies, its government, finances, administration, commerce, and especially military organization, aimed to defend the islands against the English. The other three volumes contain documents, extracts from registers, letters and other material supporting the statements in the first volume. The second volume deals with documents concerning Java's agriculture, including coffee plantations and the wood industry. The third volume contains documents dealing with the Dutch rule in Bantam, Cheribon (Cirebon), Batavia (Jakarta) and the Moluccas, and financial and administrative matters; the fourth and last volume contains documents on military matters, health care and hospitals.
Bindings slightly soiled and worn along the extremities. Otherwise in very good condition, wholly untrimmed. Coolhaas, A critical survey of studies on Dutch colonial history (1980), p. 78-79, 162.
Related Subjects: