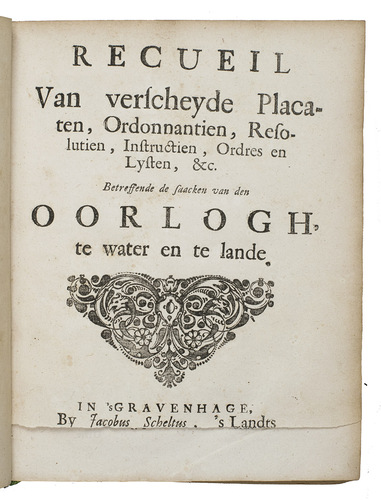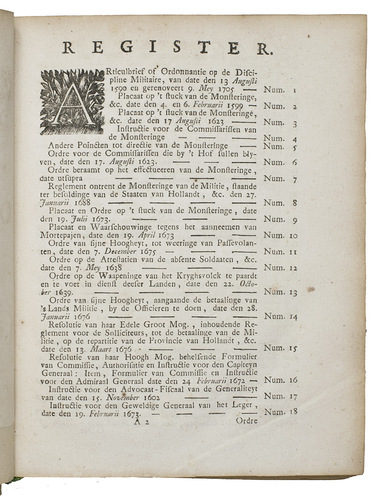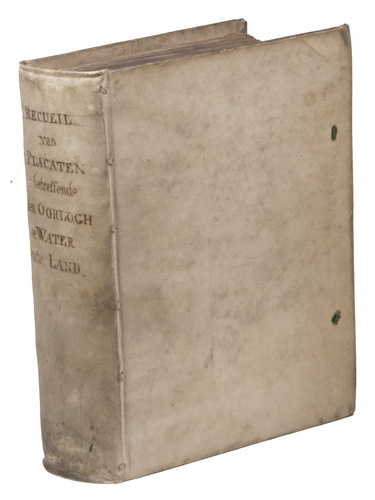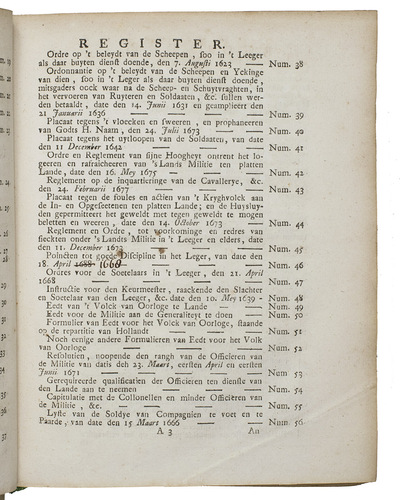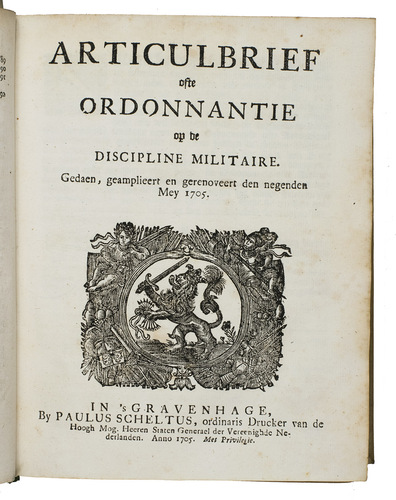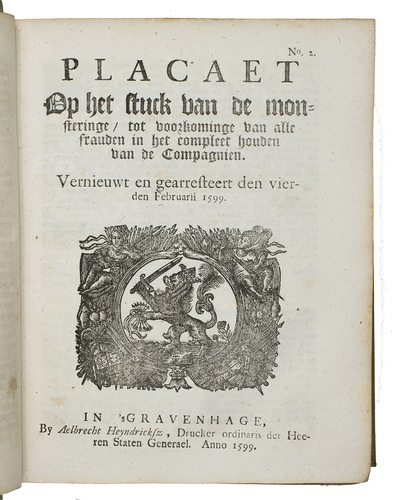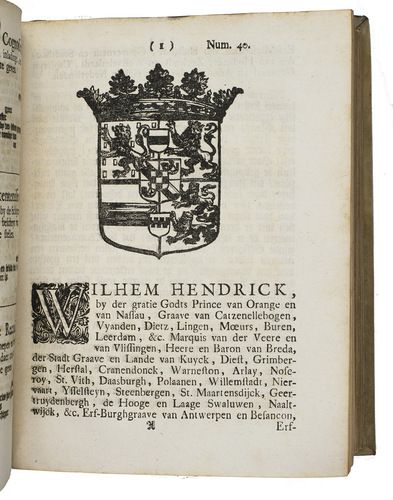 [ORDINANCES - DUTCH REPUBLIC].
Recueil van verscheyde placaten, ordonantien, resolutien, instructien, ordres en lysten, etc. betreffende de saacken van den oorlogh, te water en te lande.
The Hague, Jacob Scheltus, Aelbrecht Hendriksz, the heirs of Hillebrandt Jacobsz van Wouw, Paulus Scheltus, 1591-1716. 4to. With woodcut publishers' devices, title vignettes and decorated initials. Vellum over boards, manuscript title on spine, remains of green ties. [8], [ca. 780] pp. containing 92 numbered items (2 folding).
€ 2,250
Very interesting collection of 92 numbered ordinances, resolutions, instructions, orders and lists concerning the army and naval forces of the Dutch Republic during its golden age, dating from 1591 to 1716. At least seven times over a period of nearly fifty years, the printers to the States General produced similar preliminaries to reissue and/or reprint a series of previously published official documents. The first - with documents 1-72 - by Jacob Scheltus in 1675. Expanded versions followed in 1688 and 1722, the latter by Paulus and Isaac Scheltus. Since Jacob is not otherwise recorded after 1712, the present edition (containing a document dated 1716) may have been printed by Paulus Scheltus under Jacobs name.
The documents include ordinances on the military discipline, (no.1, 1705), "placaten" (publicly posted documents) on the engaging of soldiers and seamen, orders on armament, payment, instructions for admirals, officers, provost marshal, orders regarding transportation of military forces and goods, quartering, against looting, using bad language, insubordination and desertion (including punishments), forms of oaths, structures of various army units, on drill practices, military clothing, prisoners of war, etc.
Binding slightly soiled, otherwise in good condition. STCN (2 copies).
Related Subjects: