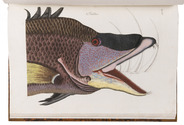 CATESBY, Mark, Nicolaus Friederich EISENBERGER and Georg LICHTENSTEGER.
Piscium serpentum insectorum aliorumque nonnullorum animalium nec non plantarum quarundam imagines ... | Die Abbildungen verschiedener Fische, Schlangen, Insecten, einiger andern Thiere, und Pflanzen...
Nürnberg, Johann Joseph Fleischmann, 1750. Folio. With 42 hand-coloured copperplate engravings (34.5 x 25 cm). Early nineteenth-century period-style half leather binding with marbled boards, title in gold-tooling to board in gilt lettering. [2], 42, [84] pp.
Full description
€ 29,500