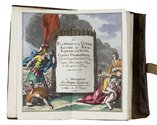 L'ISLE (DELISLE), Guillaume, and others.
Le flambeau de la guerre allumee au Rhin; representee en 36 nouvelles cartes geographiques, ... = De fakkel des oorlogs ontstoken aan den Rhyn; verbeeld in 36 nieuwe geographische landkaarten, ...
Amsterdam, Petrus Schenk II, 1735. 8vo. With a double-page engraved title, two double-page engraved pages of text in Dutch and French, a folding engraved map and 36 double-page engraved maps; all coloured by hand. Original publisher's red sheepskin with a flap and wrapping band.
Full description
€ 7,500